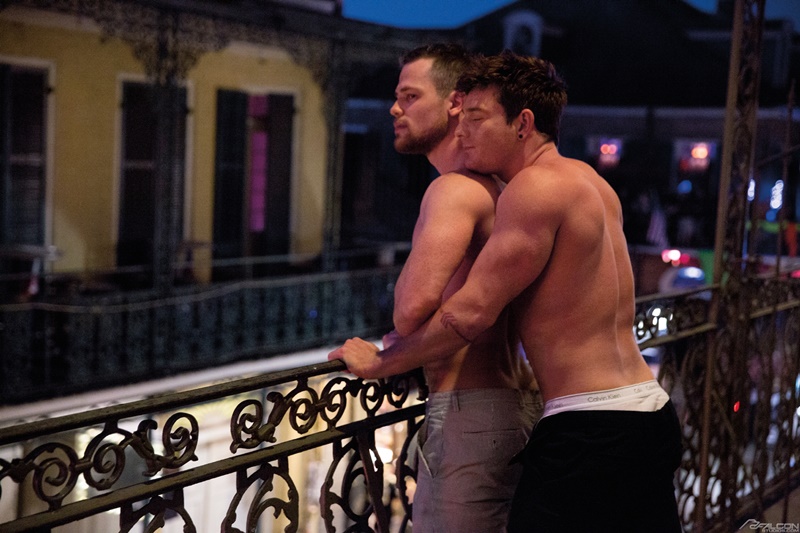 Kurtis Wolfe spreads Brent Corrigan's legs wide open and goes in to rim his smooth tight hole
Falcon Studios says: It's another crazy night in New Orleans. The crowds are out, the bars are full, and everyone is ready for a good time, including Brent Corrigan and Kurtis Wolfe.
The two studs don't waste any time getting back to their room and shedding all their clothes. Before Brent's underwear can hit the floor, Kurtis has his mouth wrapped around the jock's hard dick.
After sampling what Brent has to offer, Kurtis spreads Brent's legs wide open and goes in to taste his smooth, tight hole. Kurtis has a love of servicing men and doesn't miss an inch of Brent's shaft, balls and ass.
Brent doesn't want to be left out of the taste-testing action and gets Kurtis hard by offering up his warm, wet mouth. Kurtis is so turned on by the whole experience that he can barely contain himself.
He gets Brent's butt lubed up and then slips his giant dick deep inside the moaning stud. Brent loves the feeling of being stretched and rides Kurtis, taking the hard dick as deep inside of him as it will possibly go.
The two hung jocks switch up their positions, and after a sustained pounding, Brent announces his intent to blow and lets it rip. After seeing Brent shoot, Kurtis is ready to join the ranks and unleash on Brent.
He gets the stud into position and releases all of his inhibitions over Brent's perfect bubble butt.